WEIGHT LOSS & MANAGEMENT - SUGAR & FOOD ADDICTION
DISORDERLY EATING ISSUES - ENHANCING POSITIVE BEHAVIORS
SELF-HYPNOSIS" WORKSHOP PROGRAMS...
Elizabeth Bohorquez, RN, C.Ht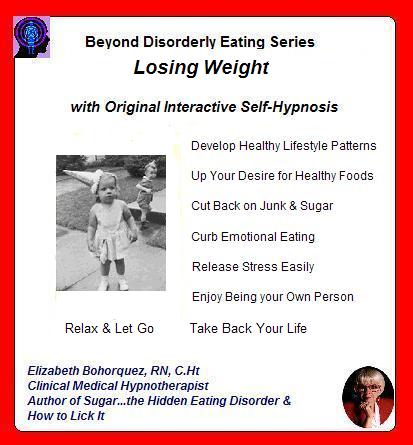 Self-hypnosis is not a magic wand. The programs on this page are designed for weight loss, sugar addiction, eating issues including compulsive/emotional & stress eating, food addiction, bulimia, as well as enhancing positive behaviors such as exercise. In order to lose weight & then keep that healthy weight means changing many aspects of your life including choices & behaviors, some conscious, others subconscious or unconscious. Our programs help you to edit past failures, while planting new lifestyle behaviors including healthy eating, emotional & thought management, as well as positive & motivational imagery. Each mp3 program is filled with hundreds of mini-mind programs, designed to take you on your personal path of lifestyle change. Some of our most popular programs include Weight Loss, Compulsive & Emotional Eating, Disorderly Eating, Carbohydrate Addiction, Motivation for Weight Loss, Licking Sugar Addiction &, Motivation for Exercise.
To purchase programs, please go to my ORDER PAGE & list the programs you would like. If you prefer, you can simply send me an email. Once I receive that, I will confirm the order with you by email & send you an invoice. All invoices go through PayPal. Even if you do not have a PayPal Account, you can pay there with any credit card. If you would like to view our 2010 Catalog...
Here is the link to a complimentary mp3 download....it is a full session. They change monthly, so be sure to subscribe to my monthly EZINE.
You also might like to take an "Interactive Self-Hypnosis" online class with me. You can find those listed at the following links.
If you have any questions, please send me an contact me directly.

Copyright 2010 International Medical Health Writers Ltd.