DISEASE PREVENTION, HEALING & MEDICAL HYPNOSIS PROGRAMS,
DENTAL, ONCOLOGY, SYMPTOM & TREATMENT MANAGEMENT
Elizabeth Bohorquez, RN, C.Ht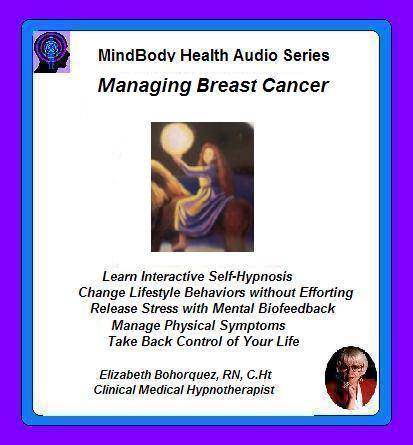 Self-hypnosis is a powerful tool for managing disease states, as well as the emotions that accompany them. Whether the medical condition be chronic or life threatening, changes need to be made, perhaps in lifestyle behaviors or in complying with physician orders. Some of our most popular programs including Managing Blood Pressure, Diabetes, Heart Disease, Arthritis, Chronic Pain, Fibromyalgia, Chronic Fatigue, Bruxism or teeth clenching, TMJ, IBS & GERD, Chemotherapy, Radiation Therapy, Preparing for Surgery, our Oncology Series... to name a few. Symptoms need managing, along with emotions that accompany them. Those can include surgical, acute & chronic pain. In addition, as the mind & body relax deeply into hypnotic suggestion, healing chemicals are produced by the body's hormonal system, thereby effecting positive change throughout the systems of the body.
To purchase programs, please go to my ORDER PAGE & list the programs you would like. Once I receive that, I will confirm the order with you by email & send you an invoice. All invoices go through PayPal. Even if you do not have a PayPal Account, you can pay there with any credit card. If you would like to view our 2010 Catalog...
Here is the link to a complimentary mp3 download....it is a full session. They change monthly, so be sure to subscribe to my monthly EZINE.
You also might like to take an "Interactive Self-Hypnosis" online class with me. You can find those listed at the following links.
If you have any questions, please send me an contact me directly.