Welcome to our complimentary CD Download Page

Our site has been operational for the past 15 years, with thousands of people from around the world joining in our mentored discussion groups & other interactive areas. Follow us on Twitter & FaceBook.

www.twitter.com/elizrn
http://www.facebook.com/elizabeth.bohorquez

Our goal is to help you reach your goals, as well as to explore your highest levels of health & personal development. This is accomplished by working with your own "Inner MasterMind." It's there, waiting for you to active it. I look forward to meeting you personally online. The best way to do that is to join one of our many discussion groups. You will find those listed on the home page.

Meanwhile, please enjoy our complimentary download & then explore our large collection of unique & creative, Interactive Self-Hypnosis Programs. If you need assistance in choosing a program, please contact me directly.

Elizabeth Bohorquez, RN, C.Ht
President & Program Designer

---
Each complimentary download is one self-hypnotic session.....around 30 minutes.
A complete CD or mp3 program is 2-3 separate sessions....
around 80 minutes
---
1. Complimentary Download Link mp3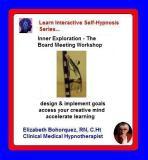 Inner Board Meeting Workshop #5014
"You are your own Corporation & so therefore, it stands to reason that you need a powerful Board of Directors. No, this is not a fantasy. It's very real, indeed. Your body systems work together, either enhancing each other or taking away, as do your emotions. You have assets & liabilities, problems & solutions & now you have the ability to put your Corporation in it's very best working condition."......Elizabeth Bohorquez, RN, C.Ht
This workshop takes the listener or practitioner of self-hypnosis to the powerful Inner Board Meeting. This is similar to working with our inner guides or mentors. Out of hypnosis we have the opportunity to choose a Board of Directors to assist the running of our life. We will also enlist the Higher Power, Higher Self or other stabilizing force. Then we'll present our issues or need for creative solution to the Board & ask for their input.
This original metaphor allows for the utilization of other parts of the subconscious mind that are often blocked due to resistance or other negative forces. This workshop enhances goal focus, allowing the listener to move forward in new creative ways. The Board Meeting also gives opportunity to work directly with the emotional states, both positive & negative, taking us towards healing & acceptance of Self.
Note: All programs produced by International Medical & Health Writers, Ltd. are written & recorded by Elizabeth Bohorquez, RN, C.Ht. Each program has 2 or 3 separate original Interactive Self-Hypnosis Sessions, each with it's own induction. All programs include directions for listening & other important information.
---
---
OUR 2013 CATALOG

Download

NOW

SUBJECT CATEGORIES
---